Join Us for the 4Cs Silent Auction and Fundraiser!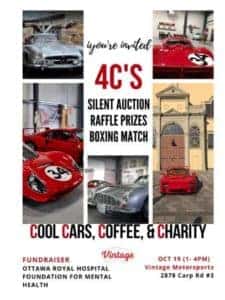 What's better than cool cars, coffee, and charity? Nothing!
Join Star Motors of Ottawa at the 4C's Silent Auction, a fundraising event supporting the Ottawa Royal Hospital Foundation for Mental Health hosted by Dr. Hassan G. Moghadam DDS, M.Sc, FRCD(C) of the Ottawa Hospital and McGill University. The event is held on October 19th between 1:00-4:00 PM at 2878 Carp Rd #3!
You'll see a number of AMG vehicles and a few prizes 😉. We'll see you there!